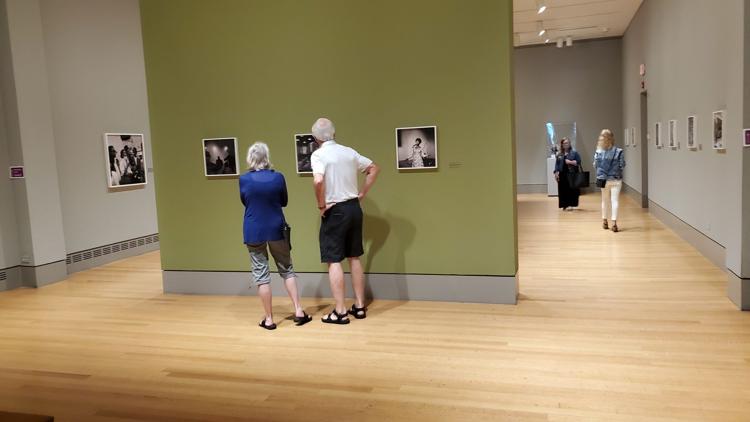 The new Black is Beautiful exhibit will officially open at the Columbia Museum of Art Saturday.
The exhibit features the work of photographer Kwame Brathwaite, and is designed to showcase the natural beauty of African American women from the late 1950s through the 60s, specifically the Grandassa models. Viewers are transported back to the fashion industry of the time period through photographs in a variety of sizes and saturation, in both color and black-and-white.
A handful of guests could be seen Friday during an exhibit preview walking through the gallery, closely observing Brathwaite's work. "It's really nice to kind of see a different representation of the era. This has been really nice to see the life, the lived experience of folks during this time that is generally not represented," said guest Deidra Wells.
The exhibition was organized by the Aperture Foundation and Brathwaite's son, Kwame S. Some of the photos included have not been displayed in previous Brathwaite exhibitions.
"Kwame and a lot of his focus was also presenting beauty, and to present this idea that everything African and black woman – everything about the culture – is beautiful. I think a lot of that era is presenting struggle, and that's appropriate. But making sure that the beauty came through as well," said guest Napoleon Wells.
Despite the cultural relevance in light of the recent Black Lives Matter movement, curator Catherine Walworth said the exhibition has been in the works since 2018. "I'm surprised how often it's exactly what we need at that moment. It just speaks to the power of art," she said. "This exhibition has a wonderful sensation to it of experiencing these photos. You feel refreshed by going through there." Public media relations specialist Milena Engh agreed, describing the exhibit as a "powerful combination of art and activism."
The exhibit in Columbia is the third stop on a nationwide tour, based off Brathwaite's book Black is Beautiful.
"I think it's incredibly powerful, culturally and artistically. There have been a few exhibits recently that have motivated me to come, but I find very often I feel disconnected. I find it beautiful, the entire thing. I'm glad we came out," said Napoleon with Deidre Wells.
The exhibit will be open until September 6. Additional information can be found at columbiamuseum.org.