Growing up a military brat, it was hard for Dan Fecht to find a home. Colorado Springs was one of his 10 stops around the world before his 12th-grade graduation.
"When that happens to you over and over again, you become really jaded," he said. "So I developed a form of depression, which is kind of common in military brats."
Fecht, 35, now lives in Florida with his wife and splits time in Washington, D.C., as editor of culture at DC Life Magazine. But he still calls the Springs home.
"I always miss the mountains, the fresh air," he said.
It was here as a junior at Rampart High School that he developed his love for writing. He came back later for Pikes Peak Community College.
"I told myself, I need to go after this writing thing," he said, "because it's one of the only things that really, truly makes me happy."
Finally, Fecht has realized his dream as a published poet.
And to realize it, he drew on some of the darkness that has lurked throughout his life.
His first book, "Assisted Suicide Talk Show," is as somber and at times disturbing as it sounds. There's a dystopian quality to the setting, a studio where a man fields questions about his pending doom, surrounded by a jeering and cheering audience. The spectacle is intentional, meant to demonstrate a brutal break between a distracted society and the reality of suicide. Fecht intersperses stream-of-conscious poems, narrations explaining how our talk show guest has arrived at the brink.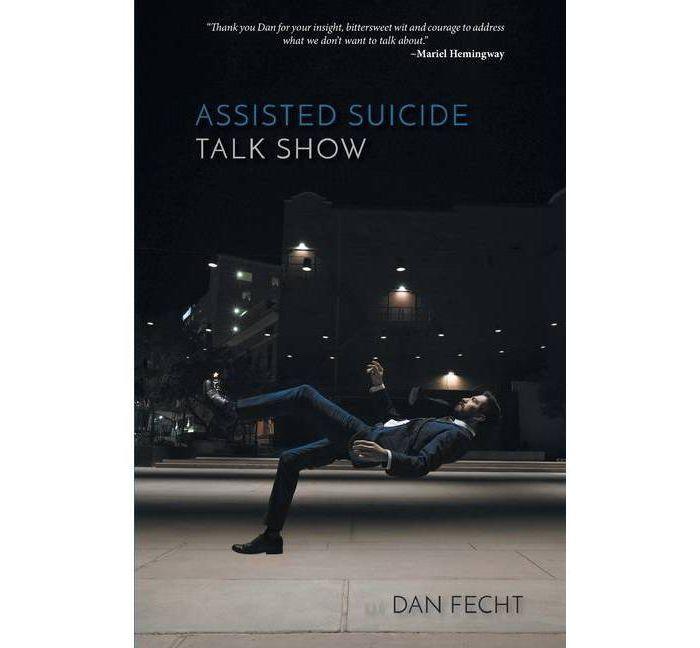 But gloom and doom is not the purpose here.
The opening pages offer the number for the suicide prevention line — that's 1-800-273-8255 — and also a quote from C.S. Lewis: "There are far, far better things ahead than anything we leave behind."
Also, there's a line of appreciation from a descendent of one of Fecht's writing idols.
"Thank you, Dan," writes Mariel Hemingway, granddaughter of Ernest, "for your insight, bittersweet wit and courage to address what we don't want to talk about."
An actor and author based in Malibu, Calif., Mariel Hemingway connected with Fecht via social media. While her grandfather's struggles with depression and death by his own shotgun are well-documented, his was but one case of mental illness plaguing the family.
Fecht's "poetry struck a chord obviously because of these family issues," Hemingway told The Gazette. She found the book "to address the issue without apology along with boldness and compassion."
She added: "I believe that art has a way of healing you. And sharing your art, in this case Dan sharing his book with others, and the way he describes these struggles, invites the audience to do the same."
Fecht said he has never had suicidal thoughts. He shares other personal connections with the book's subject.
"The Holy Ghost is moving but I pretend / To be a ghost, hard to read and empty," Fecht writes in one poem, one reference to his difficult relationship with Christianity. He considers himself a believer, "but I have my times," he said. "It can be tough."
There are other references to lost youth ("Virgin lungs fill with new filth," goes one poem about a schoolyard cigarette initiation); to disillusionment of careerism and indifference to art ("Culture suffers the grievance of a myriad of vanished souls that could have healed another soul with art"); to disillusionment of the day-to-day ("Sleep is like drunken nights — time passing fast to summon no memory").
But Fecht is no pessimist.
References turn to lessons of nature — lessons he learned in the Springs. "So, do you wither in your own personal winds or act as a tree?" Fecht writes.
"There's a progression of hope if you keep reading," he said. "Each page starts getting a little brighter. That was the goal."